FIND YOUR PASSION. GET INVOLVED.
Volunteers have an enormous impact on the health and well-being of communities worldwide, making a difference in day-to-day life in countless ways.  As community needs change, grow, and emerge, the time and talents of volunteers are more important than ever to help those most in need in our neighborhoods.
Image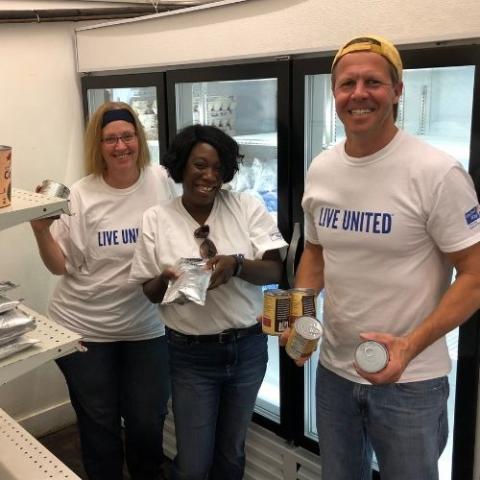 United Way Volunteer Center: 
The United Way Volunteer Center approaches our important work by ensuring that volunteers have a great experience as they serve.
Our multi-faceted approach is simple and sensible:
Connect people to opportunities to serve:  We will help individuals find the best fit for their interests and commitment to serve.
Build the capacity for effective local volunteering:  We will help local organizations to strengthen how they manage the volunteers that help them deliver their much-needed services.
Promote volunteering:  We will honor those effectively serving in the community as well as organize regular opportunities for all volunteers to work alongside each other in the spirit of service.
Participate in strategic initiatives that mobilize volunteers:  We will lead or join in sensible and vital efforts that mobilize volunteers to meet local needs.
Workplace & Professional Development Volunteer Opportunities
Affinity Group Steering Committees - Join a working committee that helps connect individuals to leading and impacting our community. Steering committees include Labor United, Mission United (Veterans), Newaygo Community Committee, Oceana Community Committee, RSVP Advisory Council, Seniors United, Student United, Women United, and Young Leaders.
Advisory Committees - Join an advisory group that helps set and guide United Way to reach its community goals through community impact, philanthropy, and volunteerism. These committees include Campaign Cabinet, Community Engagement Advisory Council, Community Impact Strategy Team, Development Council, and Personnel Committee.
Community Investment Panels - Community Investment volunteers help determine where the funds raised during United Way's annual campaign are invested. They review program applications, tour program sites & meet to discuss the program's effectiveness.
Employee Campaign Coordinator - Employee Campaign Coordinators (ECC) are key to the success of every company's United Way fundraising campaign. You serve as the connector between United Way & the employees of your company.
Live United Ambassadors - The focus is to engage other company leaders to encourage workplace campaigns or a company gift. Your relationships & connections will help United Way thank, ask, & inform others and will allow us to engage new businesses & smaller businesses.
Loaned Executives - Loaned Executives provide leadership, fundraising, & teamwork skills to assist local employers plan, implement, & run successful United Way campaigns. They serve as a united Way spokesperson conveying the needs of the community, specifically in the area of health and human services.
Community Volunteer Opportunities
Community Event Booth - Hang out and spread the word about important programming at community fairs, festivals, and major events!
Homeless Continuum of Care - Help end homelessness and work with the CoC. This includes helping with the Point In Time Survey which helps gauge the number of homeless individuals in our community.
Light Up The City - Join Consumers Energy, local Police Departments, and United Way in a community collaborative initiative to promote neighborhood safety & healthy communities with a series of community walks.
Mobile Food Pantries - Each month United Way hosts a food truck with Feeding America West Michigan in Oceana County.
Reading Buddies - This reading initiative was created by a team of students to promote literacy in childcare centers and elementary schools.
Skilled Volunteers - Have a passion or skill you think would be useful for an agency? Let us know! We can work with you and find an agency in need of your special skill. Skills like web design, carpentry, strategic planning, writing, and so much more are incredibly beneficial to our nonprofit agencies.
Welcome Desk - Volunteer at our Welcome Desk at United Way of the Lakeshore! Help us answer phones, welcome clients, handle mailings, and general assistance to our organization.
Special Events - United Way of the Lakeshore loves to have fun and make an impact while doing it! Join us as a special events volunteer and serve on your choice of planning committees, sort-a-thons, or support on the day of the event. Examples include:
Adopt A Family

ALICE Roll Out

Beards for Books

Coffee & Conversation

Community Baby Shower
Day of Action

Day of Caring

Earth Day

Euchre Tournaments

Golf United
Heroes Celebration

Memorial Clean Up

Mistletoe & Music

Parades

Ride United
Supply Drives

Veterans Day

Wild Game Dinner
Community Trailer Rentals: 
Dates Trailer Is Currently In Use:
June 17
July 15
August 19
September 1 - 16
Welcome, Volunteer Administrators! 
GetConnected - Digital Volunteer Management!
This program is offered FREE for all agencies, clubs, churches, and schools in Muskegon, Newaygo, and Oceana counties! Go to

volunteer.unitedwaylakeshore.org
to get your agency started today! 
Why GetConnected: 
An easy volunteer management system for you and your volunteers. Get Connected makes it simple for your volunteers to find and select the opportunities they're passionate about.
Give essential tools to your corporate partners. Build and maintain corporate partnerships with automated communication tools, custom landing pages, and real-time tracking of employee impact.
Make volunteer check-in a snap. Use Get Connected to easily check-in volunteers using an onsite kiosk and a free, mobile volunteer app.
Track volunteer hours in real-time. Accurately capture every volunteer hour and generate automated reports to show impact within your community.
Volunteer App - Empower your volunteers to find opportunities, check-in, and track hours with an intuitive mobile app.
Scheduling - Fill every volunteer shift with tools that manage one-time events, ongoing opportunities, and recurring shifts.
Volunteer Waivers - Protect your organization by collecting and storing digital liability waivers and e-signatures.
Groups & Teams - Boost volunteer engagement and impact with streamlined group and team management tools.
Volunteer Profiles-  Give volunteers a custom profile that displays skills & interests, individual impact, and achievements.
GetConnected Training Materials For Volunteer Administrators: 
Click Here To Download Our Complete "Get Started Manual"
Need support? Contact our Volunteer Director at dominique@unitedwaylakeshore.org or call (231) 332-4006
Lakeshore Verified Volunteers! 
We know not all nonprofits and service organizations are alike. Some nonprofits have the ability to pay for all background checks, some may not need background checks, and some may need to require their volunteers to cover the costs. That's why we created Lakeshore Verified Volunteers.
Lakeshore Verified Volunteers help nonprofit organizations gain confidence in the volunteers working with those they serve by delivering thorough, reliable background checks. By enabling volunteers to order, manage, and share their background checks via a secure online platform FOR FREE, a community of vetted volunteers is created, which helps nonprofit organizations save time and money.
Our screening and compliance best practices help nonprofits recruit the best volunteers to maintain a safe environment and positive reputation.
What We Do: 
We run a basic ICHAT and Sex Offender Registry check for free for any volunteer in Muskegon, Newaygo, and Oceana Counties. 
We verify that they are cleared with no background history and hold on to this information for 1 year.
Each year we then follow up in the month of January and re-screen each volunteer with their permission. 
Nonprofits that have signed a MOU can request this background check to be faxed or sent to them at any time. 
Volunteers can also manage and share their background checks at any time!
Other Benefits include:
A paperless, self-service online process
The cost-sharing capability between volunteers and the nonprofits they serve
Volunteer ability to securely share background check free of charge with unlimited organizations within the GetConnected System
Automatic annual updates 
Volunteer manager ability to track, communicate with, and manage volunteers
Interested in being a Lakeshore Verified Volunteer Site? Contact our office today at dominique@unitedwaylakeshore.org or call (231) 332-4006. 
AmeriCorps Seniors - Retired and Senior Volunteer Program (RSVP)
The Retired and Senior Volunteer Program (RSVP) is one of the largest volunteer networks in the nation for people 55 and over. By becoming a National Service volunteer you can use the skills and talents you have learned over the years, or develop new ones while serving in a variety of volunteer activities within our community.  Established over 40 years ago, the federally supported program connects individuals who are at 55+ to volunteer opportunities that impact specific needs and goals in their local communities.  The Retired and Senior Volunteer Program (RSVP) is one of three programs operated by the Corporation for National and Community Service under AmeriCorps Seniors.
Image