Nearly half of the households in our community struggle to afford the basic necessities of housing, child care, food, technology, health care, and transportation.
That's why United Way of the Lakeshore has joined with United Ways across Michigan to bring you the ALICE Project. Standing for Asset Limited, Income Constrained, Employed - ALICE represents those in our communities who are working yet still struggling to make ends meet. Learn more about the ALICE project here.
There are serious consequences for both ALICE households and their communities when these households cannot afford the basic necessities.
ALICE households are forced to make difficult choices such as skipping preventative health care, accredited child care, healthy food or car insurance. These "savings" threaten their health, safety, and future - and they reduce Michigan's economic productivity and raise insurance premiums and taxes for everyone. The costs are high for both ALICE families and the wider community.
The ALICE Report is the most comprehensive depiction of need in Michigan to date. By unveiling new metrics including the ALICE Threshold, Household Survival Budget and Economic Viability Dashboard, our communities now have the proper tools to discuss need around the state. Click here to view the overview report. To view a report for one of the three United Way of the Lakeshore counties, click the county name here:  Muskegon   Newaygo   Oceana (2021 Print Reports Coming Soon.  For now check out below for the interactive website information!)
United Ways in Michigan have come together to release the ALICE Report because recognizing the magnitude of the number of households facing financial hardship, as well as the different types of households and problems they confront, will make more effective change possible. 
The ALICE Project is generously powered by the Consumers Energy Foundation.
ALICE in the news:
Editorial: Helping ALICE to a better quality of life will improve all of Muskegon County
Michigan struggles to boost lives of the working poor
The release of this ALICE Report for Muskegon, Oceana, and Newaygo counties comes to us during an unprecedented crisis – the COVID-19 pandemic. While our world changed significantly in March 2020 with the impact of this global, dual health and economic crisis, ALICE remains central to the story of every county in Michigan and every state in the US. The pandemic exposed exactly the issues of economic fragility, widespread hardship, and growing disparities – particularly by race and ethnicity – the ALICE data work to reveal.  
That exposure makes the ALICE data and analysis more important than ever. The ALICE Report for our 3 counties presents the latest data available – a point-in-time snapshot of economic conditions across the state in 2019. By showing how many of our households were struggling then, the ALICE research provides the backstory for why the COVID-19 crisis is having such a devastating economic impact. The ALICE data is especially important now to help stakeholders identify the most vulnerable in their communities, and direct programming and resources to assist them throughout the pandemic and the recovery that follows. And as we move forward, this data can be used to estimate the impact of the crisis over time, providing an important baseline for the changes to come.  
We all know people who fall into the category of ALICE: Asset Limited, Income Constrained, Employed. They're the households where hard-working neighbors still have to make tough choices about basic necessities. Many of us live in ALICE households ourselves. Whether it's deciding between quality childcare or paying the rent and picking up groceries, these decisions have long-term consequences not only for ALICE but for all of us.  
At United Way we remain committed to serving ALICE, and all those in need, through programs that strive to improve the health, education, and financial security of all Muskegon, Oceana, and Newaygo residents. We have the necessary information – now it's time to do the hard work of improving outcomes for ALICE.  
Every two years, United for ALICE undertakes a full review of the ALICE Methodology to ensure that the ALICE measures are transparent replicable, and current to accurately reflect how much income families need to live and work in the modern economy. If you would like to review this Methodology, please visit the United for ALICE website for the in-depth information and hard statistical data. 
New Features:
For the 2019 report, you will have more local variation of information-driven by county-wide information down to municipality information. We are now able to see :
ALICE Household Survival Budgets -The minimal estimate of the total cost of household essentials — housing, child care, food, transportation, health care, and a smartphone plan, plus taxes and a miscellaneous contingency fund equal to 10% of the budget.
Senior Survival Budget - Adjusts the Household Survival Budget to reflect the fact that seniors have lower food costs than younger adults, travel fewer miles for work and family responsibilities, and have increasing health needs and out of pocket costs. 
ALICE Household Stability Budget - Posits a more sustainable budget model that estimates the higher costs of painting a viable household over time, including a 10% savings category that can be used in an emergency, for additional education, or to buy a home.
We have also incorporated strong transportation and health care budgets to better reflect costs for different household members. This includes sorting by age, gender, and employment status. The interactive website allows us to create these budgets for households with any combination of adults and children including single parents, or families with multiple children. We are also now able to see how families of different races and ethnicities are impacted by the ALICE data.
With the ALICE Essential Index, we have been able to standardize the measurement of the change over time in the costs of essential household goods and services, calculated for both urban and rural areas. With these updates and new features, we can personalize and identify the needs in our community in a way we never have been able to before. We can ensure that we are showing representation for every person in our community and have the statistical data to support the fight for the education, income stability, and health for our local families.  
From 2010 to 2019, Michigan showed steady economic improvements according to traditional measures. Unemployment fell to historic lows, GDP grew, and wages rose slightly. Yet in 2019, 38% of Michigan's 3.9 million Households still struggled. And while 13% of these households were living below the Federal Poverty Level, another 25% - nearly twice as many – were ALICE. With the new ALICE Report data and tools, we can reveal and explain the persistent level of hardship faced by ALICE. Three critical trends help us understand why the pandemic and current economic conditions are hitting so hard for so many: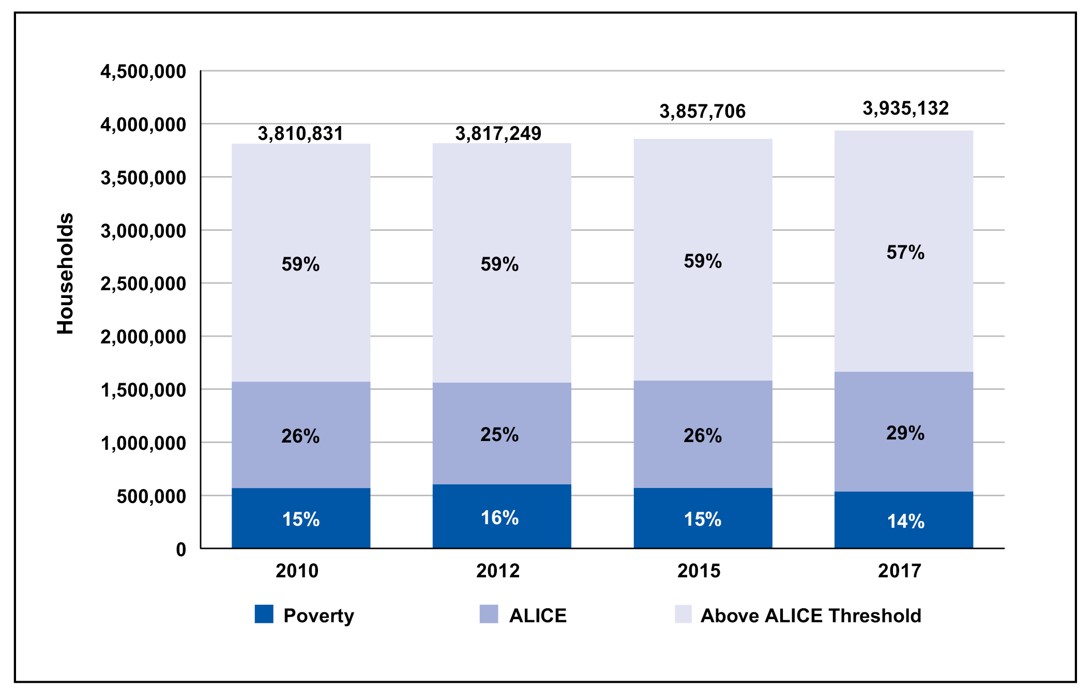 The cost of living has been increasing for ALICE households specifically.  
From 2007 to 2019, the cost of household essentials increased faster than the cost of other goods and services. According to the ALICE Essentials Index, the change over time in the cost of household essentials increased an average rate of 3.4% annually, while the rate of inflation was only at 1.8% 
The economy is increasingly dominated by jobs with lower wages and less security. 
By 2019, a near-record low number of people were reported to be unemployed. However, that low unemployment concealed employment trends that exposed ALICE workers to greater risk: growth in the number of lower waged jobs, minimal increases in wages, and more fluctuations in job hours, schedules, and benefits make it harder to budget and plan. These trends were clear in 2019: A record number of Michigan workers – 58% - were paid by the hour, and 58% of the state's jobs paid less than $20 per hour.  
The number of ALICE households increased in response to the Great Recession and never fully recovered.  
Despite the improved economic conditions in the years that followed the Recession, increasing numbers of ALICE households struggled as a result of rising costs and stagnant wages. There are more ALICE households than households in poverty, and they are increasing at a faster rate. In just 12 years, the number of ALICE households rose from 19% to 25% in 2019.  
 
The ALICE Threshold is the average income needed to afford their basic needs. Households below the ALICE Threshold include both ALICE and poverty-level households.
In 2019, 43% of Muskegon households were living under the ALICE Threshold. In Newaygo County, this number was 39%. In Oceana County, this number was 44%.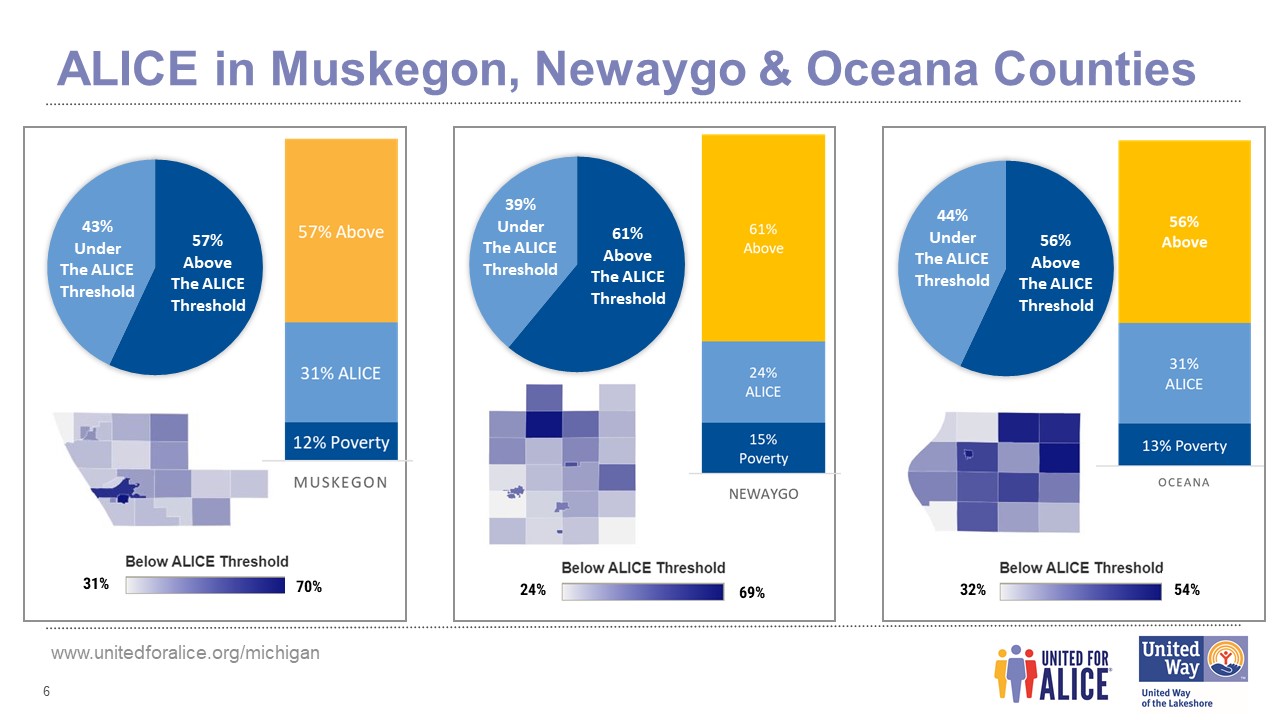 What we are seeing in our communities is that over time, more individuals are moving out from the Federal Poverty Level into the ALICE Level. However, many of our families within the ALICE population are not securing stability to be above the ALICE Threshold. Take a look at this graph here that shows the trends from 2010 to 2019. You will see the gap and increase in ALICE households over time.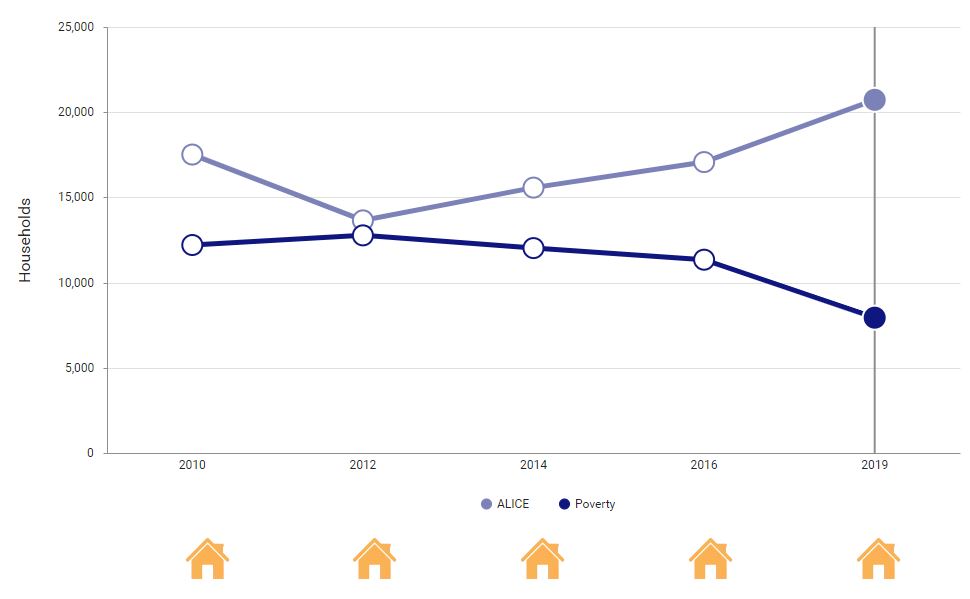 ALICE households live in every county in Michigan — urban, suburban, and rural — and they include people of all genders, ages, and races/ethnicities, across all family types. However, some groups are more likely to be ALICE than others. 
Age:  
There are ALICE households in every age bracket. The youngest group (people under 25) is more likely to be in poverty, and both the youngest and the oldest (people 65 and older) groups are more likely to be ALICE. For Muskegon, Newaygo, and Oceana Counties, 51% of households that are 65 years of age and older are under the ALICE Threshold. 43% of our seniors are living as ALICE. For those who are just starting their life and employment (those under the age of 25), 60% of our community members are ALICE. ALICE data show that more than 40% of our households do not earn enough to cover basic expenses, including housing, childcare, food, transportation, health care, and a basic smartphone plan. This is a structural economic problem; wages are not keeping pace with increases in the cost of living. But for Black households, those numbers are far higher.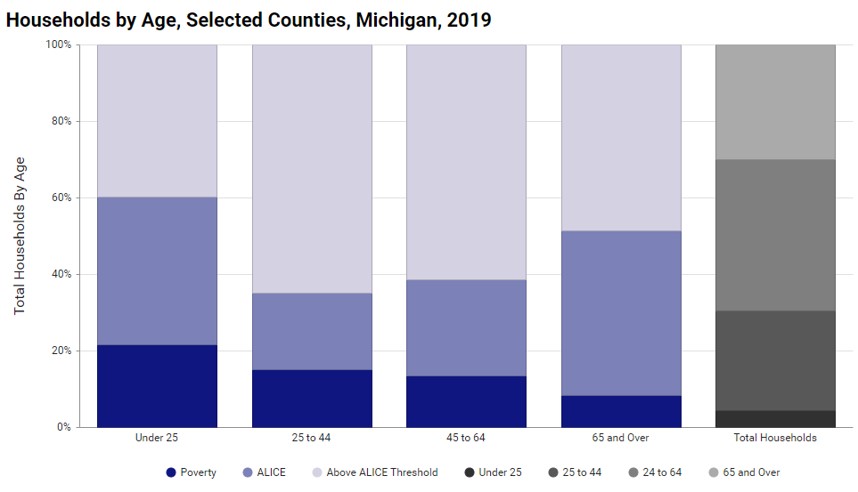 Race & Ethnicity:  
Poverty and racism have been inextricably connected since this country's inception, yet official federal statistics have never fully portrayed the economic impact of that link. Racial and ethnic disparities in hardship are growing, not shrinking. From 2010 to 2018 — which covers the "recovery" from the Great Recession — the number of Black households below the ALICE Threshold (the minimum income needed to afford household basics) increased by 12%, while the number of White households struggling to make ends meet barely changed, increasing only 2%. Black families continue to have persistently lower wages, fewer educational and job opportunities, poorer health, and lower life expectancy. Structural racism and discrimination continue to restrict job opportunities and wage levels for Black workers. Even when controlling for age, gender, education, and region, Black workers are paid 16% less than White workers. 
Muskegon County
For Muskegon County, 71% of Black Households are living below the ALICE Threshold. This is a stark comparison to their White Counterparts who have 39% of their households living below the ALICE Threshold. For households with 2 or more races, this percentage is 66% and for Hispanic and LatinX communities the percentage is 45%.  
Newaygo County
In Newaygo County, 57% of Black Households and 59% of Households who have 2 or more races live under the ALICE Threshold. For Newaygo County's white households, 39% live under the ALICE Threshold.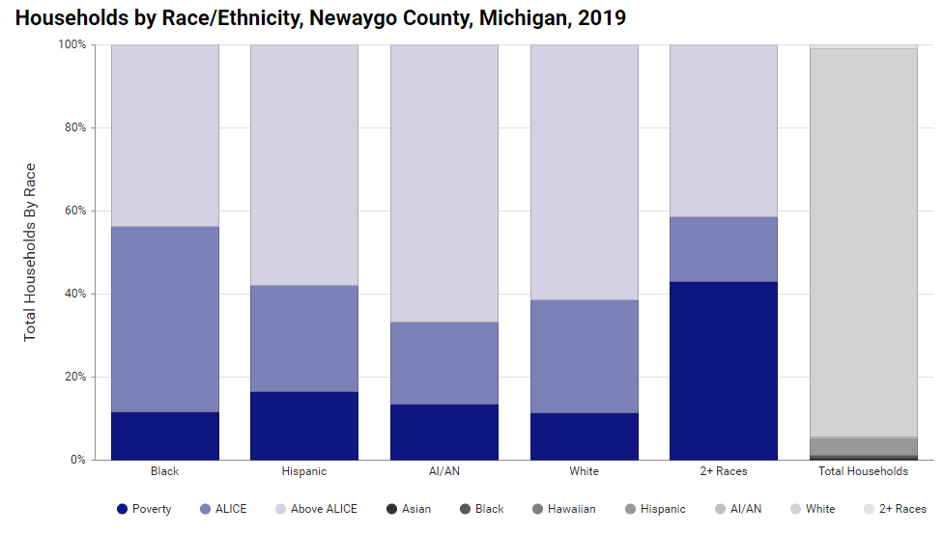 Oceana County
In Oceana County, 50% of Hispanic and LatinX communities live under the ALICE Threshold. For white households in Oceana County, 43% live under the ALICE Threshold.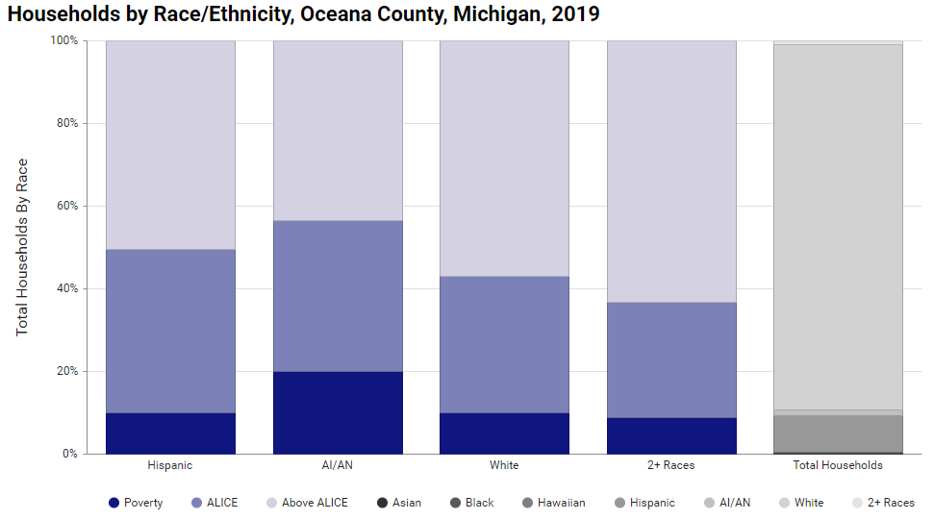 Intersectionalities Play Important Roles:
In addition to these demographic disparities by age, race/ethnicity, and family type – which are perpetuated by discrimination and institutionalized racism, ageism, and sexism – other factors can also make households more likely to face financial hardship. Lower incomes are associated with households headed by a recent immigrant, especially one who is undocumented or unskilled; by someone with low proficiency in English; by LGBTQ+ person; by someone with a low level of education; by someone who was previously incarcerated; or by someone living with a disability. Groups with more than one of these factors are even more likely to experience financial hardship.  
 
New this year! ALICE in Focus Reports that explore subgroups of people living under the ALICE threshold. 
Children of ALICE - April Release
People Living With A Disability - July Release
Veterans & Military Personnel - November Release
The Michigan Association of United Ways (MAUW) released today its first report of the new 2022 ALICE in Focus Series, thanks to the generous support of the Consumers Energy Foundation. The series features three reports, each highlighting a different demographic group within Michigan's ALICE – Asset Limited, Income Constrained, Employed – population: Children, those with Disabilities, and Veterans. The first report spotlights children growing up in financial hardship, in households that have an income but still struggle to afford essentials such as housing, childcare, food, transportation, and healthcare, among other needs. According to the 2022 ALICE In Focus: Children Report, nearly one million (44%) of Michigan children in 2019 lived in a household with an income below the ALICE Threshold. Of that 44%, 17% lived under the Federal Poverty Level (FPL) and 27% earned above the FPL but did not earn enough to afford the basics in the communities where they lived. While there are children below the ALICE Threshold across all demographic groups, the report highlights the stark divide based on race and ethnicity - 71% of Black children and 58% of Hispanic children lived in households below the Threshold, compared to 36% of White children "The 2021 release of our fourth ALICE Report continues to inform the conversation about the real and present needs across our state, and our new ALICE in Focus Series will only help us further understand how we can best address today's critical issues surrounding ALICE children," said Mike Larson, President and CEO of Michigan Association of United Ways. "Although there is much work to do, we remain resilient and committed to serving ALICE families through supporting programs and advocating for public policies that strive to improve the health, education, and financial stability of all Michigan households and communities."
The Report reveals that children below the ALICE Threshold are concentrated in families where adults work in occupations with low median hourly wages. The 2021 ALICE Report found that 58% of jobs in Michigan paid less than $20, while a family of four needs to earn $32.06 an hour in order to make ends meet. ALICE in Focus confirms that the largest driver of a child's financial stability is the employment status of household members, but underscores that two working parents or guardians does not
guarantee financial stability noting that 23% of Michigan children live in households with two adults in the labor force yet are still below the ALICE Threshold.
The ALICE in Focus Report once again notes that many ALICE families earn too much to be eligible for public assistance, but still struggle to meet basic needs for their children. The Report finds the resources that ALICE children lack include:
· Stable Housing – 52% of children in renter households below the ALICE threshold were rent burdened, paying more than 35% of their household income on rent
· Education – 37% of preschool aged children below the ALICE Threshold were enrolled in preschool, compared to 58% of their peers above the Threshold and more than 8,050 Michigan children ages 15-17 were not in school; more than half of these teens (59%) lived in households below the ALICE threshold
· Health Insurance – 4% of children in families below the ALICE threshold did not have coverage, of insured children, 61% of children in families with income below the ALICE Threshold had public insurance, while 88% of children above the Threshold had private insurance
· Home Internet – Nearly 300,000 children below the ALICE threshold in Michigan did not have access to high-speed internet at home, impacting access to education, learning support programs, and work
ALICE in Focus is a national research series using the U.S. Census Bureau's American Community Survey (ACS) Public Use Microdata Samples (PUMS) through the lens of the ALICE measures – the Household Survival Budget and the ALICE Threshold. To view the national results, click here.