The work we do to help households become stable and ensure children can thrive is only possible thanks to our hundreds of corporate, nonprofit, foundation and labor partners.
See below to see our community partners, coalitions, collaborations, and government agencies that help us move the needle for our local families! 
United Way works with companies, governments, nonprofits and other organizations to address complex challenges on a worldwide scale. Our partners contribute more than money. Their ideas, volunteer power, in-kind support and more are helping build stronger, more resilient communities.
---
Local Community Nonprofit Partners:
AgeWell Services
American Red Cross
Arbor Circle
Association for the Blind & Visually Impaired
Big Brothers Big Sisters of the Lakeshore
Boy Scouts of America 
Boys & Girls Club of the Muskegon Lakeshore
Bread of Life
CALL 211
Catholic Charities 
Child Abuse Council
Club 188
COGIC Community Center
Communities Overcoming Violent Encounters
Community enCompass 
Community Foundation for Muskegon County
Community Foundation for Oceana County
Compassion Home 
DHHS
Disability Network of West Michigan
Dolly Parton's Imagination Library 
Empowerment Network
Every Woman's Place
Feeding America West Michigan
First Congregation Church
Frauenthal Center
Fresh Coast Alliance
Girl Scouts MI Shore to Shore
Goodwill Industries of West Michigan
Harbor Hospice
Hope Network
Kids Food Basket
Kids Food Basket
Lakeshore Museum Center
Lakeshore Regional Community Development Corporation
Legal Aid of Western Michigan
LifeCircles PACE
Lights On After School
Love INC
LST 393
Mediation & Restorative Services 
Michigan Education Corps. 
Mission for Area People
Newaygo County Community Foundation
Newaygo County Council for the Prevention of Child Abuse & Neglect 
Newaygo County RESA
Oceana's Home Partnership
Orchard View Community Education 
Pathfinders 
Read Muskegon 
Senior Resources 
Silversides Museum 
Staircase Youth Services
Step Up
The Arc Muskegon
The Hope Project 
The Salvation Army
Trinity Health
TrueNorth Community Services 
Volunteer for Dental 
White Lake Area Community Education
YMCA
National Nonprofit & Government Partners: 
No Kid Hungry
Coalition for Community Schools
CDC Foundation
County Health Rankings & Roadmaps
Lumina Foundation
The London School of Economics & Political Science
WILF Family Foundations
Impact 2030
AmeriCorps Seniors
The Campaign for Grade-Level Reading 
National Disability Institute 
Youth Service America
Attendance Works
Healthy Weight Commitment Foundation
Leadership 18
FLU ON Call 
National Youth Leadership Council
The Forum
The University of Georgia 
The Annie E. Casey Foundation
Barnes Family Foundation
Opportunity Nation
National Human Services Assembly
Prevention and Equity Institute 
America's Promise Alliance
Finra Investor Education Foundation
AmeriCorps
Ascend - The Aspen Institute
National Council of Nonprofits
AIRS
National Summer Learning Association
MDC
LISC
Trust for America's Health
Community Coordinating Council of Muskegon County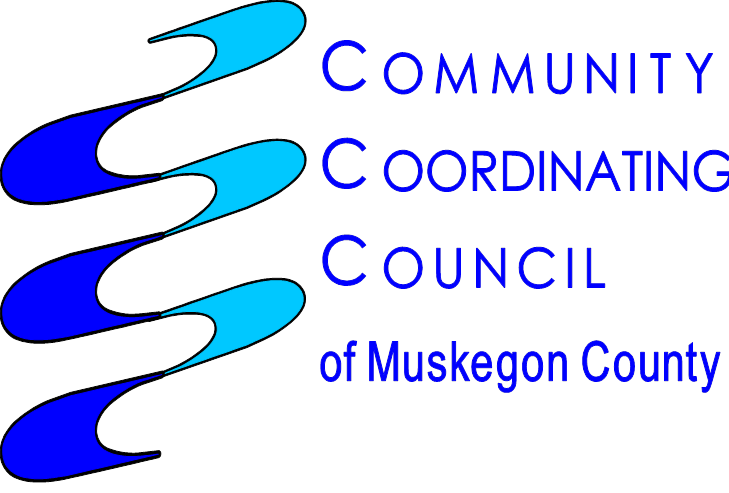 The Community Coordinating Council of Muskegon County (CCC) is a State-endorsed community collaborative organized to promote effective human services through collaboration, integration, and support. The CCC promotes understanding, focus, and commitment to systemic changes and initiatives to accomplish desired outcomes for Muskegon County and its residents.
The CCC provides a forum for 45 organizations engaged in planning and evaluating human services and service delivery systems for the residents of Muskegon County. Through comprehensive and collaborative planning, evaluation, and programming the Council can develop and implement appropriate changes and enhancements resulting in positive impacts on the lives of County residents, and help to provide a safe, stable and supportive community.
Any nonprofit public or private agency, institution or organization engaged in providing or funding human services for residents of Muskegon County. New organizations are admitted to the Council following an evaluation and recommendation of the Executive Committee, and the consensus decision of the membership at a regular Council meeting.
Regular meetings are held on the 2nd Tuesday of each month at 8:00 am, at the United Way of the Lakeshore, 31 E Clay Avenue.  Please contact Wyneice Hairston for more information - 231-332-4017 or wyneice@unitedwaylakeshore.org
Meeting Minutes/Presentation Items
Agency Events, Flyers, & Resources
Contact Information for Agencies (Updated Annually) 


---

Muskegon County Community Coordinating Council (CCC) 

Strategic Think & Do Session 
January 25, 2022 (1:30pm-4:30pm ET) - via Zoom 

SESSION SUMMARY 

Background and Participants 

The Muskegon County Community Coordinating Council Executive Committee met for a Strategic Think & Do Planning Session with key leaders in health and human services and  economic development organizations to consider how we can enhance our collaborative and  individual efforts to take action and achieve results that protect and improve the mental health of  our residents and employees; train and expand the skills of our workers and new workforce  entrants to fill local vacancies; as well as remove barriers to employment. Over 30 leaders  attended along with planning support from three members of the Wellville team and five  members of the United Way staff. Our goal was to join forces using the CCC as a conduit for  measurable change to improve lives. The topics of mental health and employment were chosen  because of the critical need and opportunity that each of these present to impact change in our  local economy and community.  

Decision-makers in attendance included:  

Breakout group 1: John Severson, MAISD; Cindy Larsen, Muskegon Lakeshore Chamber of  Commerce; Ryan Bennett, West MI Plumbers & Fitters Local #174 and Labor Council Chair;  Linda Juarez, Hackley Community Care Center; Jeff Fortenbacher, Access Health; Bruce  Spoelman, YMCA; Facilitator: Dominique Bunker, United Way  

Breakout group 2: Jim Edmonson, Greater Muskegon Economic Development; Brad Hilleary,  Webb Chemical; Jeanette Hoyer, Goodwill Industries West MI; Tracy McDaniel, Muskegon  Family Care; Christine Robere, United Way of the Lakeshore; John Selmon, Muskegon  Community College; Julia Rupp, HealthWest; Facilitator: Rick Brush, Wellville; Notetaker:  Alyssa May, United Way  

Breakout group 3: Kathy Moore, Muskegon County Public Health; Larry Sanders, West MI  Works; Kris Collee, Agewell Services; Laura Fitzpatrick, Mercy Health - Health Project; Aaron  Maike, Baker College - Muskegon; Diane Fleser, Disability Network West MI; Don Kalisz,  Kindred Marketing Agency; Dakota Crow, Boys & Girls Club Muskegon Lakeshore; Jen  Barangan, Access Health/CHIR; Facilitator: Wyneice Hairston, United Way; Notetaker: Emma  Coppock, United Way 

Breakout group 4: Todd Jacobs, Community Foundation for Muskegon County; Donata Kidd,  Muskegon County DHHS; Sandra Vanderhyde, Muskegon County Courts; Elizabeth  Harsevoort, Catholic Charities West MI; DJ Hilson, Muskegon County Prosecutor; Lisa  Sabourin, Employers Association of West MI; Michael Ramsey, Mercy Health - Health Project  and City of Muskegon Council; Darlene Scott, Muskegon Family Care; Facilitator: Esther Dyson,  Wellville; Notetaker: Kara Zielinski, United Way

Framing Question 

How can the CCC become a more effective coordinating body and marshal our forces to make  a meaningful impact this year in the areas of: 

Employment (including training, removing barriers, etc.); and 
Mental Health (including community members and the care workers who serve them)? 

These two areas are intricately and inextricably related; individuals cannot effectively have one  without the other, and the community and employers also need them to have both.  

Session Outcomes 

Vision for long-term outcomes in the areas of employment and mental health
Shared goals for 2022 in the areas of employment and mental health 
Agreements on actions we will take and how we will work together 

Key Themes Shared by Participants During the Session 

Our Shared Vision: What is the future we want to create? 

During initial introductions, each participant answered this question by sharing an object, story  or phrase that represents their vision for employment and mental health in Muskegon County.  Here's a visual depiction of the themes they shared: 

Our Shared Goals for 2022: What could all of us accomplish together in 2022 that none of  us can accomplish on our own? 

In the first breakout, participants set their sights on making meaningful progress together this year toward their long-term vision for employment and mental health. Here's what they said they  want to accomplish in 2022: 

Remove barriers – child care, mental health issues, criminal background, transportation,  etc. – to increase employability and reduce turnover. 
Increase capacity of mental health resources by expanding our reach, making connections, and leveraging technology. 
Develop strategies to adapt to the new workforce and realign with employee expectations (working from home, etc.). 

Breakout Room 1 - Facilitator: Dominique Bunker, United Way of the Lakeshore 
Breakout Room 2 - Facilitator: Rick Brush, Wellville | Notetaker: Alyssa May, United Way of the Lakeshore 
Breakout Room 3 - Facilitator: Wyneice Hairston, United Way of the Lakeshore | Notetaker: Emma Coppock, United Way of the Lakeshore 

Breakout Room 4 - Facilitator: Kara Zielinski, United Way of the Lakeshore/Esther Dyson, Wellville Notetaker: Kara Zielinski, United Way of the Lakeshore 

3) Our Collective Strengths & Agreements Needed for Success: How will I contribute to this effort (e.g., actions, connections, expertise)? What and who else will it take for us to be successful?

 
In the second breakout, participants committed to an initial set of actions they will take – individually and collectively – to achieve the 2022 goals. It was clear that success will require working together across organizations and sectors, leveraging our combined resources, and effectively coordinating efforts. Attached is the first draft of a tracking sheet that CCC will use to support our collective progress toward shared goals. Check the tracking sheet for a list of the commitments made at the meeting. Please take a look and update or add your commitments to the sheet. We have added a column to indicate support needed as well as columns for progress made throughout the year, including one for celebrating successful completion. Don't hesitate to add new strategies you are working on that align to this work. 

Next Steps 

Thank you again for your engagement in the January planning session and your commitment to helping move the dial in a significant way to improve employment and retention, and to improve the mental well-being of our collective staff and the individuals and families we serve in our community. We know that together we will be stronger. 
We invite you to continue on with us on this journey to improve the collaborative human service delivery system in Muskegon County. We will plan a meeting in the next month to check in to see the progress being made. Again, our thanks for your engagement in this collective impact work for the benefit of the community.  

Develop a Cradle to Career mentality and planning. 
Reach out to the others to compare notes. Figure out what's working and collaborate on making it even broader and better. Eliminate redundancy. 
Reach out beyond ourselves to the community: Children in schools, those we serve both internally and externally, etc. 
Implement new tools to retain and attract employees, especially with the younger generation; give them responsibility and the opportunity to learn on the job. Are we ready to meet them where they are?  
Strengthen the pride and excitement about our community & our work. 
Build and organize programming that not only builds the foundation of mental health &  career pathways for our youth but to reinforces the supports and systems for adults &  seniors.  
Define the common ground and information of current statistics in a precise and easily comprehensible way for all community members to understand.  
Deliberate inclusion: reaching out to all corners of our community to get them involved in places that THEY would feel empowered.  
Enhancing and building stronger connections since COVID for our resources and employment opportunities.  
Effectively lead by example through empathy in leadership positions and businesses/organizations.
Emergency Food & Shelter Program
Muskegon and Oceana Counties have been chosen to receive $107,064 to supplement emergency food and shelter programs; $88,386 for programs in Muskegon County and $18,678 for programs in Oceana County. The Emergency Needs Committees of Muskegon and Oceana Counties will distribute the funds locally. The committees include representatives from more than 40 area agencies; these representatives will determine how the funds will be distributed among the emergency food and shelter programs run by local service agencies.
Local agencies chosen to receive funds must: 1) be private voluntary non-profits or units of government, 2) have an accounting system, 3) practice nondiscrimination, 4) have demonstrated the capability to deliver emergency food and/or shelter programs, and 5) if they are a private voluntary organization, they must have a voluntary board.  Qualifying agencies are encouraged to apply.