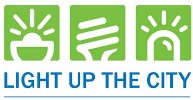 Let's Work Together for a Safe Community!
Light Up The City is a collaborative effort of government agencies, private entities, and community organizations to engage residents in promoting practices that encourage safe neighborhoods. 
Tatics We Promote:
Reporting Crime Promptly
Report Nuisances Such as Broken Windows and Illegal Dumping
Discussing How to Make Your Property Safer
Interacting with Youth Getting to Know Them
Encouraging Residents to Get to Know Their Neighbors
Get To Know Landlords That Own Property In the Neighborhood
Turn Porch Lights On
Walk Around Block…Be Seen!
Drive Safely and Slowly Through Your Neighborhood
Pick Up Litter 
Be Committed to Your Neighborhood
Light Up The City Activities & Events 
Neighborhood Walk, June 29, 5:30 to 7:00 p.m.
Neighborhood Walk, July 13, 5:30 to 7:00 p.m.
Neighborhood Walk, July 27, 5:30 to 7:00 p.m.
National Night Out & LUTC Wrap– Up - August 2
Walks will involve community partners, citizens, & residents of neighborhoods to bring attention to the LUTC concept & resources to our neighbors.